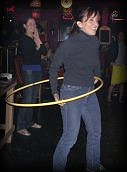 Its Bingo!
It's Trivia!
It's TRIVIAL BINGO!!
Yeah, there's some hula hooping in there too...
Join your host, Chaz Lounge, every Tuesday Night at THE GRAVITY PUB in the Heart of East Atlanta. The fun starts around 9:30 with the announcement of the night's BOOZE BALL!!
Cheezy Prizes, Adult fun, some not so adult fun, drinking games, Porn Star Birthdays, Strip Bingo, religious iconery, and $2 CANS OF PBR AND SHOTS OF JÄGERMEISTER!!